What is a dental implant?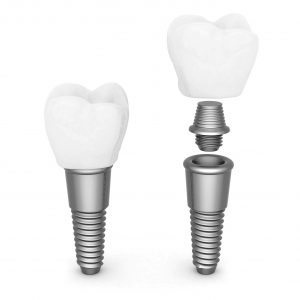 A dental implant replaces the lost root of a tooth. It is implanted into the bone of the upper or lower jaw in place of the lost tooth. Then, a crown is set on the implant. The implant with the crown fulfils all functions of the tooth and looks so natural that it is hardly distinguishable from real teeth.
Implants look similar to a screw, and can have different diameters and lengths. Implants are made of titanium – the material with the best durability and biocompatibility. Our clinic offers patients a lifetime guarantee for implants.
Implant systems
Implantology is a dynamically developing area of dentistry. Based on many years of research and experience, implant manufacturers have developed their own implant systems. In addition to various types of implants, these systems include specialist tools and devices, healing screws, crowns and bridges. An implant system also involves special surgical techniques and dedicated prosthetics.
The main objective of any implant system is to achieve excellent results of implantation. What distinguishes individual companies is the durability and quality of the final outcome of implantation. Our clinic uses only a top-quality implant system from the renowned and world-famous German-Swiss company Camlog.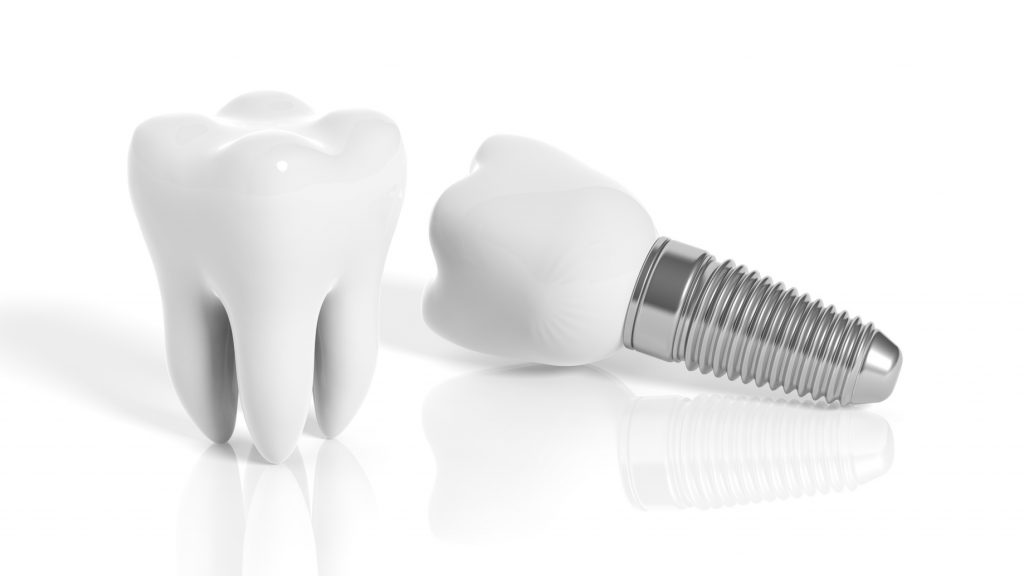 Types of dental implants
Every implant company offers various types of dental implants of varying constructions, diameters and lengths. It is up to the implantologist to choose a particular one. This choice is determined by anatomical conditions inside the mouth, patient's capacity and expectations and many other factors. As long as there are indications for implantation, the wealth of different types of implants will always allow the doctor to pick the right model.
Implantoprosthetic treatment – indications
Indications for implantoprosthetic treatment include teeth loss of various extent:
one missing tooth,
interdental gaps consisting of several missing teeth,
extensive deficiencies in the teeth of the upper and lower jaw,
complete toothlessness,
deficiencies caused by failure to form tooth buds,
deficiencies which have been replaced with a removable denture, and the patient wishes to replace them with a permanent denture.
Implantation is recommended for patients who have lost their teeth due to decay, periodontal diseases and mechanical injuries.
Benefits of implant-prosthodontic treatment
The loss of even a single tooth leads to many changes in the upper or lower jaw. One of these changes is bone loss. Atrophy is the consequence of the lack of mechanical load on the bone, e.g. when chewing.
Shifting and loosening of teeth adjacent to the missing tooth space is another pathology. Healthy teeth are subjected to increased loads, which makes them more susceptible to damage. The only effective method to prevent bone loss following tooth loss is implantation.
Implantation also provides the patient with the following benefits:
the oral cavity can function properly when food is processed,
patient can speak comfortably and speech impairments caused by tooth loss are prevented,
diseases and pathologies caused by tooth loss are prevented,
healthy teeth do not need to be grinded, a procedure necessary if other prosthetic methods are used,
a guarantee of beautiful smile for many years.
Prices
IMPLANTOLOGY
Implant – 3500 – 4000 zł
Bone reconstruction – 3500 – 4000 zł
Bone reconstruction in the course of implantation – 3500 – 4000 zł
Sinus lift – 3500 – 4000 zł
PROSTHETICS
Metal-ceramic crown – 1500 zł
All-ceramic crown – 2000 – 2500 zł
Titanium connector – 1500 zł
All-ceramic connector – 2000 – 2500 zł
We offer a lifetime guarantee for implants implanted in our clinic, something only a few implantologists are entitled to do.
Patient qualification for implant treatment
Qualification for dental implantation includes: dental examination with assessment of the oral cavity and stomatognathic system, diagnostics (RVG or CT), presenting possible therapeutic options to the patient and agreeing on a specific plan of treatment. Patient qualification proceeds as follows:
Preliminary appointment, at which the patient discusses his or her expectations and the doctor performs a general assessment of the teeth. The implantologist also takes medical history.
Detailed tests which help the implantologist assess the condition of the teeth, periodontium, toothless areas and soft tissues. X-rays or CT scans are also performed (if necessary).
Additional tests – if doubts about the patient's condition arise after medical history and tests, the implantologist may order blood tests and additional tests.
Treatment options, as well as medical recommendations for the patient to observe during treatment are discussed with the patient. At this stage, the doctor also presents the exact cost estimate for the treatment, depending on the particular treatment method chosen by the implantologist and the patient.
A schedule of the implant-prosthetic treatment is set and the patient signs consent for the procedure.
What does the implantation procedure look like – what are the stages of setting dental implants
Implantation – mental preparation
Mental preparation for implant surgery is an important element of therapy. It increases the patient's sense of safety, improves the comfort of doctor's work and has a positive effect on the final effect of the treatment.
The doctor talks to the patient, discussing the full plan of treatment with details of each stage and makes sure to dispel any doubts or fears. Very often, these are about pain felt during and after surgery. From our experience and based on our patients' opinion, we can say these are completely unfounded.
Anaesthesia during the procedure
Medicine has made great progress in the area of anaesthesia and pain management. The time when the administration of an anaesthetic had an overwhelming effect on the patient is long gone. With the modern devices, we can administer the medicine in a completely painless way. In case of more complicated procedures or in patients with a particular sensitivity to pain, treatments are performed under sedation (the so-called moderate analgesia). This kind of anaesthesia can only be performed by a specialist in the field – an anaesthesiologist. Medicines the doctor administers intravenously in the course of sedation include painkillers, which will keep working in the post-operative period.
Implanting technique – basic facts
Local anaesthesia with The Wand system or sedation.
Incision of the gum.
Unveiling of the bone.
Preparation of an implant bed using piezosurgery and a set of drills matched to the specific size and type of implant. This requires the implantologist to have an exceptionally steady hand and a "sense of the bone" which is gained with experience.
Introduction of the implant – another stage requiring extreme precision, which determines the final success of the procedure.
Stitching of the gum.
Pain-relieving therapy after implant surgery
Modern medicine offers many methods of fighting post-operative pain. Post-implantation pain is normally easy to control.
Implantation procedure is carried out in an environment with physiological conditions almost completely preserved (gums and periodontium). The mouth and its tissues are prepared for the procedure by the doctor, which means they are free from any inflammation. Pain is therefore only a consequence of intended surgical activity (traumatisation of tissues) limited to a minimum thanks to the use of specialised tools and equipment (piezosurgery and specialised drills).
After the treatment, pharmacotherapy with NSAIDs (such as Ibuprofen) is usually sufficient. The drugs must be administered as prescribed by the doctor. There are, of course, "stronger" painkillers which you can reach for after consulting with your implantologist.
In most cases, implant placement procedure is less burdensome and less invasive than simple tooth removal. Implantation procedure does not require a longer stay in the clinic.
Scientific research shows that 98.9% of implantations are successful.
Additional preparatory procedures before implantation
If substrate for implant placement is insufficient, preparatory procedures are necessary. If bone loss has occurred, bone needs to be rebuilt. Already three months after the extraction of a tooth bone conditions within the upper and lower jaw change, so it is a good idea to get an implant as soon as possible.
Our clinic performs the following bone augmentation procedures:
reconstruction of bone base with guided bone regeneration – GBR,
extension of bone base by RIDGE SPLITTING.
See what bone reconstruction around dental implants looks like:
Contraindications to implantation
Implant treatment is absolutely the best method of replacing missing teeth. Unfortunately – just like with any surgery – there are some contraindications to implantation.
Absolute contraindications include:
pregnancy,
unstable and uncontrolled diabetes,
cancer,
wasting diseases (AIDS, drug addiction, alcoholism),
age under 16 years.
Relative contraindications include:
poor oral hygiene,
smoking,
some cardiovascular diseases.
If suitable treatment is undertaken or the patient is willing to change his/her lifestyle, implantation can be carried out.